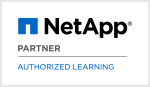 ONTAP Cluster Administration (ONTAP9ADM)
Chi dovrebbe partecipare
Network Engineers
Channel Partners
System Engineers
NetApp Customers
Certificazioni
Questo corso è parte della seguente certificazione:
Prerequisiti
Introduction to Networking in Clustered Data ONTAP (WBT)
Obiettivi del Corso
Manage ONTAP administrators
Configure and manage storage resources
Configure and manage networking resources
Create and configure a storage virtual machine (SVM)
Create and manage FlexVol volumes
Implement storage efficiency features
Create protocol servers within an SVM
Configure basic data protection features
Perform administrative and preventive maintenance tasks
Follow On Courses
Contenuti del Corso
This three-day, instructor-led course uses lecture and hands-on exercises to teach the basic administration tasks of an ONTAP 9.7 cluster. You use the cluster shell and ONTAP System Manager to manage storage and network resources. ONTAP Cluster Administration is an intermediate course in a comprehensive learning path for NetApp customers, partners, and employees. This course is generally taught with the two-day ONTAP Data Protection course.
Online Training
Durata 3 Giorni
Prezzo
(IVA esclusa)
Formazione in Aula
Durata 3 Giorni
Prezzo
(IVA esclusa)
Italia:

2.700,- €

NetApp Training Units:

36 NTU




NTU's may not have the same redemption value if used in a country other than where they were purchased.
Schedulazione
Italiano
Fuso orario Central European Summer Time (CEST)
Inglese
Fuso orario Central European Summer Time (CEST)
Online Training
Corso FLEX in lingua Inglese


Fuso orario: Central European Summer Time (CEST)
1 ora spostamento del fuso orario
3 ore spostamento del fuso orario
4 ore spostamento del fuso orario
5 ore spostamento del fuso orario
6 ore spostamento del fuso orario
7 ore spostamento del fuso orario
8 ore spostamento del fuso orario
9 ore spostamento del fuso orario
10 ore spostamento del fuso orario
Spanoglo
Fuso orario Central European Summer Time (CEST)
4 ore spostamento del fuso orario
5 ore spostamento del fuso orario
6 ore spostamento del fuso orario
7 ore spostamento del fuso orario
8 ore spostamento del fuso orario
Portoghese
1 ora spostamento del fuso orario
Francese
Fuso orario Central European Summer Time (CEST)
Online Training
Corso FLEX in lingua Francese


Fuso orario: Central European Time (CET)
Tedesco
Fuso orario Central European Summer Time (CEST)