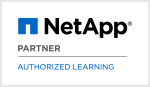 Implementing VMware vSphere on ONTAP (IMPVMWAR)
Course Overview
In this course, you learn how to implement NetApp's Virtual Storage Console by deploying, managing, and protecting a VMware virtual infrastructure in both SAN and NAS environments using ONTAP. It also covers the implementation details for both traditional datastores and Virtual Volumes using Storage Policy Based Management. Monitoring of both traditional and VVOL performance characteristics are covered in lecture and hands on labs.
Obiettivi del Corso
This course focuses on enabling you to do the following:
Describe the components of NetApp storage and how they integrate into a vSphere environment
Identify the types of datastores created by the Virtual Storage Console (VSC)
Explain how VSC provides an automated datastore provisioning capability
Describe the VVol datastore management process
Create VVol datastores and VVols
Identify performance characteristics of VVols using VSC
Monitor virtual machines with VSC performance dashboard
List the customer implementations for backup, restore and cloning capability when integrating vSphere with NetApp
Formazione in Aula
Durata 2 Giorni
Prezzo
(IVA esclusa)
Italia:

1.800,- €

NetApp Training Units:

24 NTU




NTU's may not have the same redemption value if used in a country other than where they were purchased.
Clicca sulla città per iscriverti
Schedulazione
Europa
Italia
Per informazioni scrivere a info@flane.it
FLEX Training
Di seguito i corsi disponibili in modalità Flex.
Regno Unito
Romania
Slovakia
North America
Canada
14.10. - 15.10.2019
Formazione online
Fuso orario: Canada/Central
Lingua Corso: Inglese
12.12. - 13.12.2019
Formazione online
Fuso orario: Canada/Central
Lingua Corso: Inglese
Questo è un corso Online
Questo è un corso
FLEX
, erogato sia in aula che in remoto, contemporaneamente.