CDOTDP9
Formazione in Aula
Durata 5 Giorni
Prezzo
(IVA esclusa)
Italia:

4.500,- €

NetApp Training Units:

60 NTU




NTU's may not have the same redemption value if used in a country other than where they were purchased.
Date e prenotazione
Per informazioni scrivere a info@flane.it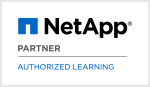 ONTAP 9 Cluster Administration and Data Protection Bundle (CDOTDP9)
Course Overview
NOTE: This course has replaced the Clustered Data ONTAP 8.3 Administration and Data Protection (CDOTDP) bundle. It combines the 3 day ONTAP 9 Cluster Administration (ONTAP9ADM) and the 2 day ONTAP 9 Data Protection Administration (DATAPROT9) courses. By enrolling in this bundle, you will be signed up for both courses and will receive 2 enrollment emails.
*SPECIAL OFFERS*
Sign up for this course and receive a FREE voucher for the certification exam. (The exam must be taken within 6 months from the start date of the training.) This offer applies to both public and private onsite sessions.
Chi dovrebbe partecipare
Network Engineers
Channel Partners
System Engineers
Certificazioni
Questo corso è parte della seguente certificazione:
Obiettivi del Corso
By the end of this course, you will be able to:
Describe how ONTAP 9 fits into NetApp's Cloud and Data Fabric strategy
Identify supported ONTAP platforms
Define ONTAP cluster components
Create a cluster
Manage ONTAP administrators
Configure and manage storage resources
Configure and manage networking resources
Describe a Storage Virtual Machine's (SVM's) role in NetApp's storage architecture
Create and configure an SVM
Create and manage FlexVols
Implement storage efficiency features
Create protocol servers within an SVM
Upgrade and revert ONTAP patches and releases
Describe the levels on which ONTAP protects data
Describe the ONTAP 9 data protection features
Understand the various data mirroring relationships available with ONTAP 9
Configure and operate SnapMirror and SnapVault data replication
Demonstrate Storage Virtual Machine data protection
Explain the components and configuration involved with SyncMirror and MetroCluster
Describe NDMP protocol operation, configuration and management
Pre/Post Assessment
Contenuti del Corso
The ONTAP 9.0 Cluster Administration and Data Protection combo course uses lecture and hands-on exercises to teach basic administration and configuration of a cluster as well as the core backup and restore technologies found in ONTAP 9. The hands-on labs allow you to practice working with ONTAP features and manage your storage and network resources using the cluster shell and OnCommand System Manager. You will learn how to implement and manage SnapMirror, SnapVault, and SnapLock technology which are used to replicate and restore mission-critical data in the enterprise. The course also surveys real-world scenarios and use cases to teach you when to use each of the NetApp protection solutions. Backup and restore operations are taught using the command line and OnCommand System Manager.
Includes: ONTAP commands for software versions 8.3.x to 9.0
Formazione in Aula
Durata 5 Giorni
Prezzo
(IVA esclusa)
Italia:

4.500,- €

NetApp Training Units:

60 NTU




NTU's may not have the same redemption value if used in a country other than where they were purchased.
Date e prenotazione
Per informazioni scrivere a info@flane.it
Clicca sulla città per iscriverti
Schedulazione