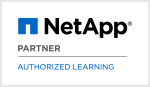 ONTAP MetroCluster IP Implementation (MCCIPIW)
Course Overview
MetroCluster software is a unique high-availability and disaster-recovery solution. In this course, you learn how to cable and set up a MetroCluster environment. Using active, participatory exercises, you practice the configuration and verification steps. You also learn how to identify component failures and practice recovery steps.
Prerequisiti
The following courses and/or knowledge and skills are recommended prior to taking this course.
Required:
MetroCluster Completion of ONTAP PS Professional Compliance Program or an equivalent program
ONTAP Cluster Installation Workshop
Recommended:
MetroCluster in ONTAP Overview for Support Partners
MetroCluster Ecosystem Troubleshooting for Partners
Contenuti del Corso
MetroCluster Overview
MetroCluster IP Rack and Cabling
Switch Configuration
Preparing the Clusters
MetroCluster Configuration
Failure Scenarios
Tiebreaker Configuration
Formazione in Aula
Durata 2 Giorni
Prezzo
(IVA esclusa)
Italia:

1.800,- €

NetApp Training Units:

24 NTU




NTU's may not have the same redemption value if used in a country other than where they were purchased.