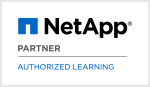 ONTAP Cluster Installation Workshop (COIW)
Chi dovrebbe partecipare
NetApp and partner PSEs who are responsible for system installation
Certificazioni
Questo corso è parte della seguente certificazione:
Prerequisiti
Clustered Data ONTAP Fundamentals (WBT)
Obiettivi del Corso
By the end of this course, you should be able to:
List and describe the installation preparation steps
Locate and use references, checklists, and forms
Conduct appropriate discussions with customers
Cable and test a multipath high-availability system to operate as a member of a multi-node cluster
Use the Config Advisor tool
Configure the cluster and switches
Test storage access
Conduct a formal hand off of the system to the customer
Contenuti del Corso
This course prepares you to deliver clustered Data ONTAP system installation services—meeting NetApp® quality standards and using NetApp best practices. Using your laptop, and the appropriate tools, you practice all installation tasks and set up NetApp equipment in a clustered configuration. You learn how to set up and test access to the system and the AutoSupport Connection, and conduct a customer briefing.
Formazione in Aula
Durata 2 Giorni
Prezzo
(IVA esclusa)
Clicca sulla città per iscriverti
Schedulazione
Europa
Italia
Per informazioni scrivere a info@flane.it
FLEX Training
Di seguito i corsi disponibili in modalità Flex.
Svizzera
Germania
Spagna
Polonia
Portogallo
Repubblica Ceca
Romania
Slovenia
Questo è un corso
FLEX
, erogato sia in aula che in remoto, contemporaneamente.