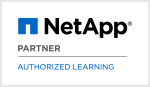 ONTAP Troubleshooting (CATSP)
Chi dovrebbe partecipare
NetApp Technical Support engineers, Support Services Certified partner engineers, and Professional Services engineers.
Obiettivi del Corso
This course focuses on enabling you to do the following:
Describe the different software components in the ONTAP architecture
Describe the methodologies for troubleshooting management component applications, networks, and protocols
Use troubleshooting workflows to identify failure symptoms, determine potential causes, and resolve issues
Use debugging commands, logs, and tools to identify, isolate, and fix complex technical issues that involve different core components
Check the health of a cluster and summarize the results
Identify issues with the management component
Use administrative commands to verify the configuration of NFS, SMB, and iSCSI
Use the troubleshooting methodology for NFS, SMB, and iSCSI to define and isolate issues
Locate logs for the management component, network, NFS, SMB, and iSCSI protocols
Collect data for support cases
Contenuti del Corso
In this course, you increase your proficiency as a NetApp® ONTAP® software engineer by learning how to troubleshoot ONTAP environments. Specifically, you learn how to troubleshoot the management component, scale-out networking, NAS protocols (NFS and SMB), and SAN protocols (iSCSI). From lectures, demonstrations, and active exercises, you learn how to isolate issues, verify configurations, view logs, view trace messages, and use event management system messages for troubleshooting.
Formazione in Aula
Durata 4 Giorni
Prezzo
(IVA esclusa)
Italia:

3.600,- €

NetApp Training Units:

48 NTU




NTU's may not have the same redemption value if used in a country other than where they were purchased.
Schedulazione
Fast Lane garantirà il corso indipendentemente dal numero dei partecipanti
Questo è un corso Online
Questo è un corso
FLEX
, erogato sia in aula che in remoto, contemporaneamente.
Europa
Italia
Per informazioni scrivere a info@flane.it
FLEX & Online Training
Di seguito i corsi disponibili in modalità Flex.
Francia
Regno Unito
14.09. ― 17.09.2020
London, City
Corso FLEX in lingua Inglese


Fuso orario: BST
Questo è un corso
FLEX
, erogato sia in aula che in remoto, contemporaneamente.