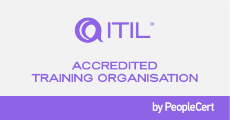 ITIL® Service Offerings and Agreements (ITILSOA)
Esami collegati:
Esame ITIL® Service Offerings and Agreements
In italiano o inglese, prezzo compreso nel costo del corso, fruibile anche in un tempo successivo.
Chi dovrebbe partecipare
Il corso è rivolto a:
IT Professional
Business Managers
Business Process Owners
Persone che hanno ottenuto la certificazione ITIL Foundation e desiderano approfondire le proprie conoscenze
Persone che operano in un'organizzazione che ha adottato le buone prassi ITIL
Persone coinvolte nei processi citati nel paragrafo precedente
Prerequisiti
Il Certificato Foundation è obbligatorio per sostenere l'esame Service Offerings and Agreements.
Obiettivi del Corso
Al termine del corso i partecipanti sapranno applicare le buone prassi ITIL ai seguenti processi:
Service Portfolio Management
Service Catalogue Management
Service Level Management
Supplier Management
Demand Management
Financial Management for IT Services
Business Relationship Management
Follow On Courses
Contenuti del Corso
Questo corso ha come obiettivo di fornire, verificare e convalidare la conoscenza relativa alle buone prassi di Service Management documentate nelle pubblicazioni ITIL® Service Management.
Materiale Didattico:
Il materiale didattico comprende:
Manuale con i contenuti del corso
Slideshow
Syllabus
Simulazione di esame
Esercitazioni
Marchi Registrati
ITIL® è un marchio registrato di AXELOS Limited il cui uso è consentito solamente previa autorizzazione di AXELOS Limited. Tutti i diritti riservati.
La formazione ITIL® è erogata in partnership con Green Mill Solutions - Accreditato ATO e AEO.
Professional Development Unit
Il corso conferisce 30 PDU.
Online Training
Durata 4 Giorni
Formazione in Aula
Durata 4 Giorni
Per maggiori informazioni contattaci.