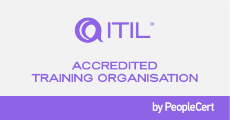 ITIL® Planning, Protection and Optimization (ITILPPO)
Esami collegati:
Esame ITIL® Planning, Protection and Optimization
In italiano o inglese, prezzo compreso nel costo del corso, fruibile anche in un tempo successivo.
Chi dovrebbe partecipare
Il corso è rivolto a:
IT Professional
Business Managers
Business Process Owners
Persone che hanno ottenuto la certificazione ITIL Foundation e desiderano approfondire le proprie conoscenze
Persone che operano in un'organizzazione che ha adottato le buone prassi ITIL
Persone coinvolte nei processi citati nel paragrafo precedente
Prerequisiti
Il Certificato Foundation è obbligatorio per sostenere l'esame Planning, Protection and Optimization.
Obiettivi del Corso
Al termine del corso i partecipanti sapranno applicare le buone prassi ITIL ai seguenti processi e funzioni:
Capacity Management
Availability Management
IT Service Continuity Management
Information Security Management
Demand Management
Contenuti del Corso
Questo corso ha come obiettivo di fornire, verificare e convalidare la conoscenza relativa alle buone prassi di Service Management documentate nelle pubblicazioni ITIL® Service Management. Il corso ha come obiettivo quello di consentire ai partecipanti di applicare le buone prassi relative ai processi di pianificazione, protezione e ottimizzazione nel Service Management.
Materiale Didattico:
Il materiale didattico comprende:
Manuale con i contenuti del corso
Slideshow
Syllabus
Simulazione di esame
Esercitazioni
Marchi Registrati
ITIL® è un marchio registrato di AXELOS Limited il cui uso è consentito solamente previa autorizzazione di AXELOS Limited. Tutti i diritti riservati.
La formazione ITIL® è erogata in partnership con Green Mill Solutions - Accreditato ATO e AEO.
Professional Development Unit
Il corso conferisce 30 PDU.
Online Training
Durata 4 Giorni
Formazione in Aula
Durata 4 Giorni
Per maggiori informazioni contattaci.