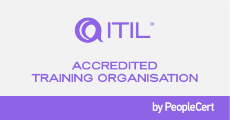 ITIL® 4 Managing Professional (MP) Transition (ITILMP)
Esami collegati
Esame in inglese, prezzo compreso nel costo del corso, fruibile anche in un tempo successivo.
Chi dovrebbe partecipare
To take the transition module, all candidates must be at Expert level or have a minimum of 17 v3 credits. Candidates can continue to collect their v3 Intermediate or Practitioner credits to enable them to be eligible to take the transition module when it is launched.
Certificazioni
Questo corso è parte della seguente certificazione:
Contenuti del Corso
The ITIL 4 Managing Professional transition module is designed to allow ITIL v3 candidates who have already invested to easily transition across to ITIL 4. They can gain the designation of ITIL 4 Managing Professional via one course and one exam.
The transition module enables candidates to recognise their previous achievements while still gaining the up-to-date skills and knowledge needed to navigate the digital service economy.
The module will provide information on the key elements of the following modules from ITIL 4 Managing Professional:
ITIL 4 Specialist Create, Deliver and Support
ITIL 4 Specialist Drive Stakeholder Value
ITIL 4 Specialist High Velocity IT
ITIL 4 Strategist Direct Plan and Improve.
The course will also provide an introduction and cover the key concepts found in ITIL® Foundation v4 (ITILFV4).
Marchi Registrati
ITIL® è un marchio registrato di AXELOS Limited il cui uso è consentito solamente previa autorizzazione di AXELOS Limited. Tutti i diritti riservati.
La formazione ITIL® è erogata in partnership con Green Mill Solutions - Accreditato ATO e AEO.
Online Training
Durata 5 Giorni
Formazione in Aula
Durata 5 Giorni
Schedulazione
Italiano
Fuso orario Central European Summer Time (CEST)
Inglese
1 ora spostamento del fuso orario
Instructor-led Online Training: Questo è un corso Online