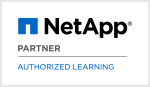 NetApp Architecture & Storage Design Workshop (NAASD)
Chi dovrebbe partecipare
SAN designers and managers, who are responsible for planning and designing NetApp storage environments
Prerequisiti
Basic knowledge in the field of storage technologies.
Obiettivi del Corso
This course enables the participants to evaluate project requirements and to develop a suitable NetApp storage solution. The course gives an overview of current concepts and requirements in the mid-range and high-end storage solutions and shows how a storage solution is optimally integrated into the IT landscape. Concepts of storage networks, storage systems and backup solutions are also discussed, with an emphasis on functionality, availability, administration and security.
Contenuti del Corso
Overview of Storage Technologies
NetApp Hardware

FAS Hardware
ONTAP Edge
NetApp Private Storage (for AWS)
E-Series
StorageGrid

Protocols
Physical Design

Backend Design
Aggregates
RAID
Spares
Scrubbing
Space Allocation
Consistency Points

Logical Design

Flexible Volumes
Clustered ONTAP
Namespaces
Infinite Volumes

E-Series

Architecture
Hardware
RAID Versions
Dynamic Disk Pools
EF-Series

Performance

Virtual Storage Tiering
Flash Cache
Flash Pool
Flash Accel / Server Cache
FlexCache
Load-Sharing Mirrors

Backup/HA/DR

Snapshots
SnapMirror
SnapVault
ONTAP Edge
MetroCluster
Formazione in Aula
Durata 5 Giorni
Prezzo
(IVA esclusa)
Schedulazione
Inglese
Fuso orario CEST
07.09. ― 11.09.2020
Online Training
Fuso orario: CEST
Prezzo speciale disponibile
1 ora spostamento del fuso orario
Questo è un corso Online
Questo è un corso
FLEX
, erogato sia in aula che in remoto, contemporaneamente.
Europa
Italia
Per informazioni scrivere a info@flane.it
Austria
Questo è un corso
FLEX
, erogato sia in aula che in remoto, contemporaneamente.