Other ITIL Certifications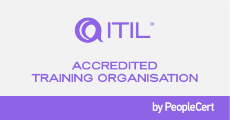 ITIL Practitioner (PRACTITIONER)
The ITIL® Practitioner certification offers practical guidance on how to adopt and adapt the ITIL framework to support your business' objectives.
It is the next step after ITIL Foundation for professionals who have already learned the basics of IT Service Management (ITSM).
ITIL Practitioner does not replace any of the existing ITIL certifications.
ITIL Practitioner examinations are now available and details of the Accredited Training Organizations providing Practitioner courses are listed on the Training Providers tab. This list will be updated as more organizations become accredited.
Prerequisiti
ITIL Practitioner is complementary to and fits in with the current ITIL certification scheme.
To take the ITIL Practitioner exam, individuals must hold an existing ITIL Foundation certificate.
ITIL Practitioner is not a prerequisite for the ITIL Intermediate Level qualifications.
ITIL Practitioner is worth three credits towards the ITIL Expert qualification.
ITIL Practitioner is also worth 15 points towards your ITIL digital badge as part of our ITIL Membership programme.
The examination is open book and made up of multiple choice questions based on a scenario.
Corso raccomandato per questa certificazione