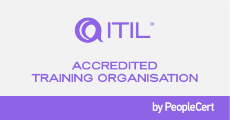 ITIL Intermediate Level (INTERMEDIATE)
The Intermediate level qualification is the next stage, following Foundation, in the ITIL scheme. It has a modular structure with each module providing a different focus on IT Service Management. You can take as few or as many Intermediate qualifications as you need. The Intermediate modules go into more detail than the Foundation level, and provide an industry-recognized qualification.
The modules within the ITIL Intermediate level are divided into two categories – Service Lifecycle and Service Capability.
Some may wish to concentrate on one set of modules, but you can choose to select modules from both the Service Lifecycle and Service Capability streams in order to combine management and technical knowledge.
It is recommended that you have prior exposure to basic concepts in IT and at least two years' professional experience working in IT Service Management before undertaking any of the ITIL Intermediary modules.
Corso raccomandato per questa certificazione
Marchi Registrati
ITIL® è un marchio registrato di AXELOS Limited il cui uso è consentito solamente previa autorizzazione di AXELOS Limited. Tutti i diritti riservati.
La formazione ITIL® è erogata in partnership con Green Mill Solutions - Accreditato ATO e AEO.