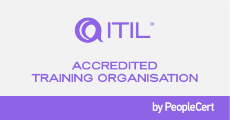 ITIL Expert Level (EXPERT)
The ITIL Expert level qualification is aimed at those who are interested in demonstrating knowledge of the ITIL Scheme in its entirety. The certificate is awarded to candidates who have achieved a range of ITIL qualifications and have achieved a well rounded, superior knowledge and skills base in ITIL Best Practices.
This qualification will benefit you in both your personal and professional development, by aiding career advancement and progress within the IT Service Management field.
You also need to achieve the ITIL Expert level if you want to progress to the ITIL Master Level, which is the highest and final qualification within the ITIL scheme.
Prerequisiti
There are many possible combinations of modules from the ITIL framework available to those wishing to attain the ITIL Expert level, but there are some key requirements:
All candidates must hold the ITIL Foundation certificate or a Bridge qualification equivalent
Candidates must have earned a minimum total of 17 credits from the Foundation and Intermediate modules.
Some credits from earlier qualifications and complementary qualifications can also count towards these 17 credits.
The Managing Across the Lifecycle (MALC) module must then be taken and passed to achieve a total of 22 credits, which is the minimum required for ITIL Expert level.
Corso raccomandato per questa certificazione
Marchi Registrati
ITIL® è un marchio registrato di AXELOS Limited il cui uso è consentito solamente previa autorizzazione di AXELOS Limited. Tutti i diritti riservati.
La formazione ITIL® è erogata in partnership con Green Mill Solutions - Accreditato ATO e AEO.